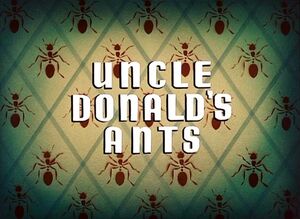 Uncle Donald's Ants is a Donald Duck short released 18 July 1952.
Summary
Donald Duck walks home with his groceries, but his bag of sugar is leaking. Ants follow the trail and eventually begin to take over his house.
Gallery
Ad blocker interference detected!
Wikia is a free-to-use site that makes money from advertising. We have a modified experience for viewers using ad blockers

Wikia is not accessible if you've made further modifications. Remove the custom ad blocker rule(s) and the page will load as expected.