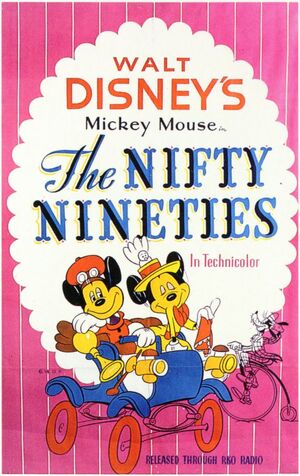 The Nifty Nineties is a Mickey Mouse short released 20 June 1941.
Summary
One springtime in the 1890s, Mickey and Minnie happen to meet in a public park. Minnie attracts Mickey by intentionally dropping her handkerchief so Mickey will return it to her.
They attend a vaudeville show where they first see a slideshow presentation called "Father, Dear, Father", which features the song "Come Home, Father" by Henry Clay Work. In the show, a daughter attempts to get her father to leave a local tavern because he hadn't come right home from work as promised and got drunk at the tavern. In the fourth picture in the slideshow, we see the clock tower, which reads 1:00 am. With mother home watching since tea and her son very sick in her arms, there can only be hope that the father comes home. The slideshow causes Minnie to cry, but Mickey tries to comfort her saying "Don't take it so hard. It's only a show."
The next act is "Fred & Ward, Two Clever Boys From Illinois" which features two song and dance men. Fred and Ward are caricatures of Disney animators Fred Moore and Ward Kimball who also voiced the characters.
After the show is over, Mickey and Minnie cruise the roads of the countryside in a Brass Era car. Goofy rides by on a penny-farthing bicycle, and Donald Duck, Daisy, Huey, Dewey and Louie ride on a bicycle built for five. Finally, the car crashes into a cow. Mickey and Minnie emerge from the wreckage unhurt, but when they try to kiss each other, the cow pops her head up between them.