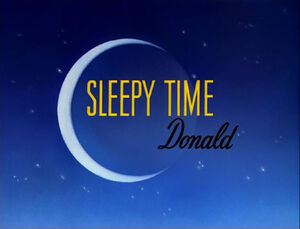 Sleepy Time Donald is a Donald Duck short released 9 May 1947.
Summary
Donald Duck is suffering from sleepwalking. He makes a nightly somnambulatory stop at Daisy's, as if he were showing up for a date. Knowing that one should not wake a sleepwalker, she plays along, but finds it difficult to keep Donald from being injured when he innocently walks in dangerous places, such as the lion's cage in the zoo, up a wall, and even upside down. When she finally gets him safely back in bed, he wakes up, sees her sneaking out, and thinks she's the sleepwalker.
Gallery
Ad blocker interference detected!
Wikia is a free-to-use site that makes money from advertising. We have a modified experience for viewers using ad blockers

Wikia is not accessible if you've made further modifications. Remove the custom ad blocker rule(s) and the page will load as expected.