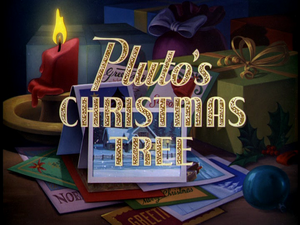 Pluto's Christmas Tree is a Mickey Mouse short released 21 November 1952.
Summary
Mickey and Pluto are searching for a Christmas tree in the same forest where Chip and Dale are looking for acorns. Chip and Dale see Pluto and throw acorns at him, then hide in a tree. Mickey chops down that tree, not knowing that Chip and Dale are in it.
Back home, Mickey and Pluto decorate the tree, and Chip and Dale admire the decorations. Pluto notices a light flashing on and off. His nose is near the light Dale was playing with. Once he finishes playing with that light, he attempts twisting what happens to be Pluto's nose. Chip pulls Dale away from Pluto with a candy cane hook. Pluto and Dale bark at each other and Dale throws some ornaments at Pluto. He catches them, and Mickey comes by and takes the ornaments from him to put back on the tree. Dale goes down the tree to grab some nuts from a bowl. Pluto chases Dale up to the top of the fireplace. Dale sees the Santa candle figures on the mantle and takes the hat and beard from one. Pluto notices the strange figure, but he does not get a chance to expose him to Mickey. Pluto knocks the other figures away except Dale. Chip, still in the tree, then notices what is happening. He rescues Dale and heads for the tree. Pluto gets his feet stuck in presents and has difficulty following the chipmunks up the ladder. While Pluto is barking, the chipmunks cause the ladder to fall and drop the star on top of the tree onto Pluto's tail. While the chipmunks laugh in victory, Pluto angrily jumps into the tree to attack.
Mickey notices Pluto and tries to pull him out, but gets pulled in instead until the tree is stripped of its decorations and needles. Mickey scolds Pluto, but notices Chip and Dale in the bare tree and finally realizes what's really going on. Pluto starts barking at the chipmunks until Mickey tells him to stop, saying that it's just the holidays. At the window they see Donald, Goofy, and Minnie singing "Deck the Halls". While they are singing, Chip and Dale join in and then Pluto howls too. Chip and Dale put a "DO NOT OPEN TIL XMAS" sticker over his mouth.
Gallery