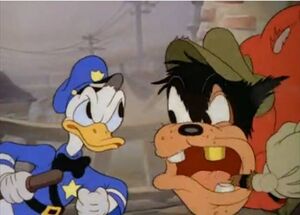 Pete is a large anthropomorphic cat that often antagonizes Donald, either as a superior or a simple obstacle.
Cartoons with Donald
Donald's Lucky Day (1939)
Officer Duck (1939)
The Riveter (1940)
Timber (1941)
Donald Gets Drafted (1942)
The Vanishing Private (1942)
Sky Trooper (1942)
Bellboy Donald (1942)
The Old Army Game (1943)
Trombone Trouble (1944)
The New Neighbor (1953)
Canvas Back Duck (1953)
Ad blocker interference detected!
Wikia is a free-to-use site that makes money from advertising. We have a modified experience for viewers using ad blockers

Wikia is not accessible if you've made further modifications. Remove the custom ad blocker rule(s) and the page will load as expected.