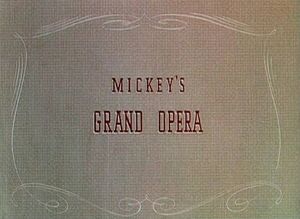 Mickey's Grand Opera is a Mickey Mouse short released 7 March 1936.
Summary
Mickey prepares to lead the opera orchestra, but Pluto wants to play. He orders him backstage, where the dog bumps a magician's trunk, scattering props like the magic hat. A rabbit pops in and out to harass Pluto, releasing doves and leading him on a merry chase.
Onstage, the opera begins. It is a representation of Romeo and Juliet. We find in the orchestra, Clarabelle on the flute. Featured singers are Clara Cluck and Donald Duck. Pluto stalks the rabbit in the magic hat out onto the stage. Mickey shoos him, but the rabbit in the hat hops into the orchestra pit, landing in a tuba, which then blows doves and rabbits everywhere, disrupting the rest of the performance.