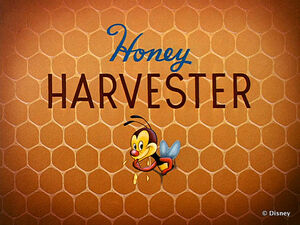 Honey Harvester is a Donald Duck short released 5 August 1949.
Summary
Donald Duck spots a bee in his greenhouse. Inspiration strikes and he realizes bees make honey, so he hunts for the hive. The bee won't give up his honey so easily, though, and battle soon erupts.
Gallery
Ad blocker interference detected!
Wikia is a free-to-use site that makes money from advertising. We have a modified experience for viewers using ad blockers

Wikia is not accessible if you've made further modifications. Remove the custom ad blocker rule(s) and the page will load as expected.