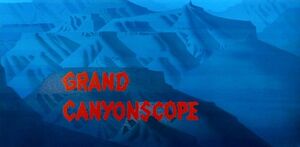 Grand Canyonscope is a Donald Duck short originally released 23 December 1954.
Summary
On a tour of the Grand Canyon, Donald Duck is constantly admonished by the rulebook-wielding tour guide, Ranger J. Audubon Woodlore after innocently tripping over various regulations. "Don't drop rocks into the canyon. Don't bother the native Americans. Don't yell at Echo Cliff. You can't be on the tour without a burro to ride."
Woodlore himself disturbs Louie the Mountain Lion, the last cougar seen in these parts since the Civil War. Woodlore is caught in the middle as Louie chases Donald through the Canyon, which results in a number of natural rock formations being destroyed. With all the other tourists having fled, Woodlore sternly demands that both Donald and the lion produce another Grand Canyon to replace what they ruined. He passes them a couple of shovels and yells at them to start digging. Feeling extremely remorseful, Donald and Louie begin the ponderous task of restoring the Grand Canyon to its former glory.