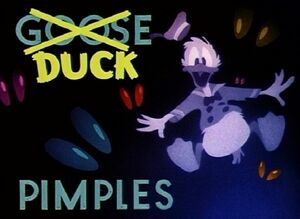 Duck Pimples is a Donald Duck short released 10 August 1945.
Summary
On a dark and stormy night, Donald Duck hears scary stories on the radio. When a mysterious, menacing stranger appears at the door, Donald suspects the worst, but it turns out to be a travelling book salesman. Donald reads one of the crime novels the salesman leaves behind, and is imagines himself pulled right into the story. Then the other characters in the novel accuse him of stealing a pearl necklace.
Gallery
Ad blocker interference detected!
Wikia is a free-to-use site that makes money from advertising. We have a modified experience for viewers using ad blockers

Wikia is not accessible if you've made further modifications. Remove the custom ad blocker rule(s) and the page will load as expected.