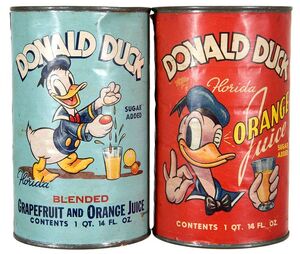 Donald Duck Orange Juice is a brand of orange juice by the Florida's Natural Growers agricultural cooperative. Donald Duck has been the brand's mascot since its introduction in 1940, appearing both on the label and in its advertising campaigns. It is available in both refrigerated juice and frozen concentrate forms.
Ad blocker interference detected!
Wikia is a free-to-use site that makes money from advertising. We have a modified experience for viewers using ad blockers

Wikia is not accessible if you've made further modifications. Remove the custom ad blocker rule(s) and the page will load as expected.