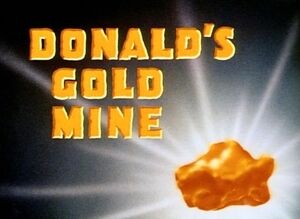 Donald's Gold Mine is a Donald Duck short released 24 July 1942.
Summary
Donald Duck is digging for gold, but his clumsiness amuses his uncooperative donkey. Donald does strike the mother lode, but the burro takes off and dumps him into the rock crusher.
Gallery
Ad blocker interference detected!
Wikia is a free-to-use site that makes money from advertising. We have a modified experience for viewers using ad blockers

Wikia is not accessible if you've made further modifications. Remove the custom ad blocker rule(s) and the page will load as expected.