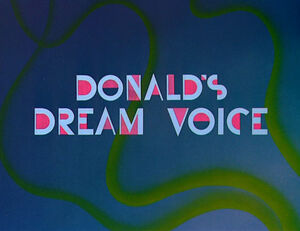 Donald's Dream Voice is a Donald Duck short released 21 May 1948.
Summary
Donald Duck is a door-to-door brush salesman, but his customers have trouble understanding him. He comes to a street vendor selling voice pills, and buys some. The first one works great, but he trips and spills all but one of the rest. He wants to use the last pill to impress Daisy, but drops it too, and chases it across town as it lands in unexpected places.
Gallery
Ad blocker interference detected!
Wikia is a free-to-use site that makes money from advertising. We have a modified experience for viewers using ad blockers

Wikia is not accessible if you've made further modifications. Remove the custom ad blocker rule(s) and the page will load as expected.