The Bundle Wrapper is an attraction at the Museum of Modern Marvels from "Modern Inventions".
Function
Wrapping
The machine takes the object directly in front of it and wraps it in clear plastic.
Ribbon
The machine then chooses between blue, red, and yellow ribbons and wraps it around the package.
Deposit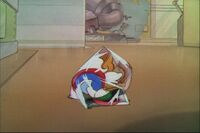 The machine then deposits the package down a slide.
Problems
The machine is dangerous as it takes whatever is directly in front of the machine, whether it's living or not, prompting the museum to advise people against touching it.
Appearances
Modern Inventions -1937
Ad blocker interference detected!
Wikia is a free-to-use site that makes money from advertising. We have a modified experience for viewers using ad blockers

Wikia is not accessible if you've made further modifications. Remove the custom ad blocker rule(s) and the page will load as expected.